About Jed's Maple Products
For six generations, the Wheeler Family has served as stewards of the woods of the Northeast Kingdom of Vermont making some of the world's finest Pure Vermont Maple Syrup. The current set of Wheelers, Steve and Amy, met at the University of Vermont (he earned a BS in Mechanical Engineering and she acquired a BS in Physical Therapy). They pursued Masters degrees together in Virginia and began climbing the corporate ladder in the mid 1990's before realizing their hearts were in Vermont. The two returned home and began to follow the family's deep rooted passion – making maple syrup. You see, Steve had grown up making maple syrup – he started by stocking the wood box in the sugarhouse at age six! In fact the very sugarhouse that Steve worked in as a child is on their property still today and has become a 'working' Maple Museum. Making maple syrup together the first few years was so much fun for the young couple they decided to expand into specialty foods – dressings, barbeque sauce, maple sugar and spices. In 2008 the Wheeler's purchased the Northeast Kingdom Mustard Company and in 2009 Rabbi's Roots Horseradish. In 2012, the two built a brand new facility in Derby, nestled among their 110 acres of forested land.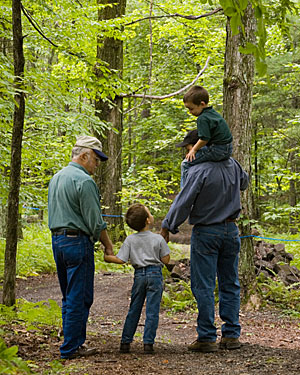 Three generations of the Wheeler Family in the Sugarwoods
(L to R): Pepere, Jed, Steve, Jonah (on Steve's shoulders)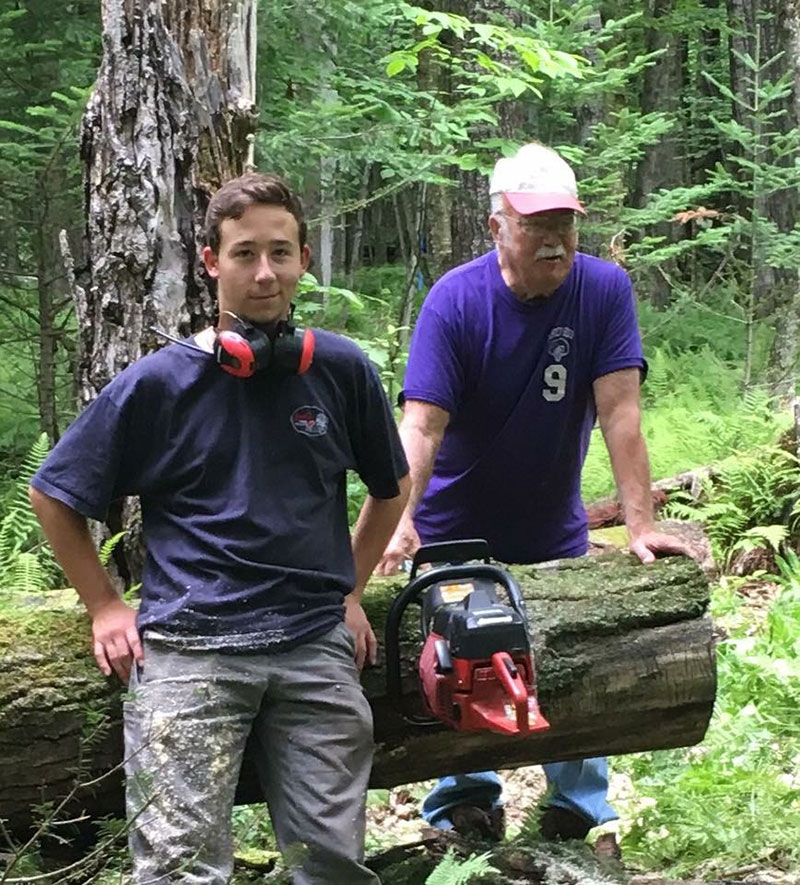 2017: Jed and Pepere working in the woods together.
Jed is now in his second year of college studying business and forestry.
As the business grew, so did their family. Jed was born in 1998 and Jonah in 2001. The two brothers have literally grown up in the business. They can often be found greeting customers in the shop, working in the woods or sugarhouse, labeling products or helping with new product R & D!
Jed graduated from VT Technical College in May of 2018 with dual degrees in Forestry and Agribusiness Management. He is currently working full time for us.
Jonah graduated high school in June 2019 and is in his first semester at the Albany College of Pharmacy.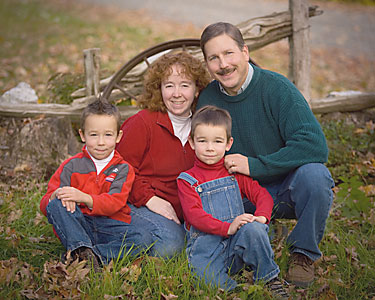 The Wheeler Family, fall 2008
(L to R): Jed, Jonah, Amy, & Steve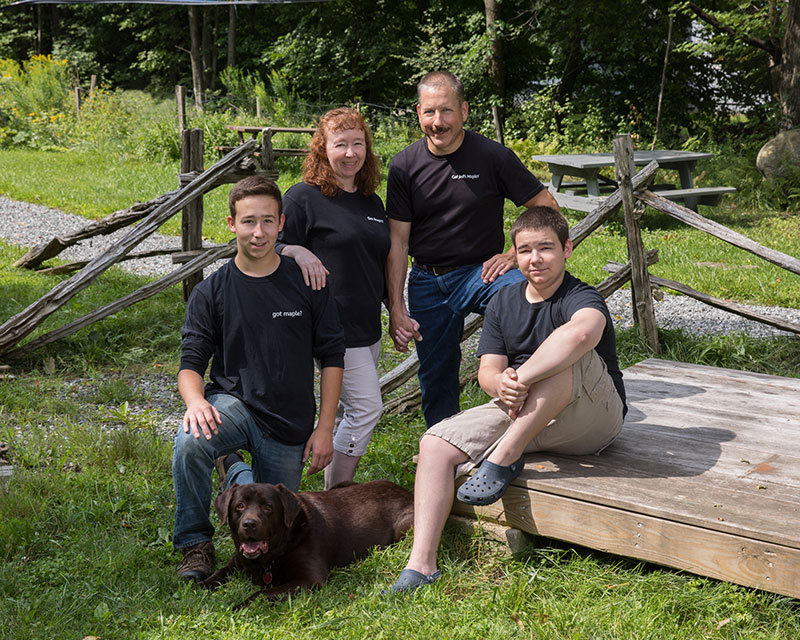 The Wheeler Family, 2017
(L to R): Jed, Amy, Steve, Jonah, and Magnum
Part of the family's mission is to care for the forest. It is such an integral part of their business. As a result, they proudly follow organic guidelines for Maple Syrup Production. They were also one of the first producers involved in the Audubon Bird Friendly Maple Program. Helping create healthy forest habitat for nesting songbirds is a perfect fit with their woods philosophy. The business has grown, but staying true to the Wheeler's commitment to quality, every product is still made in the farm kitchen and packed by hand and as if they were making it just for family. If you are ever in Northern Vermont, the Wheeler family invites you to visit – they'd love to show you around!