Welcome To Jed's Maple Products
Nestled in the heart of Vermont's Northeast Kingdom, Jed's Maple Products is excited to welcome you to our website!
Jed's Maple Open House is Mar 24-25.! More info
We hope you enjoy our new look. To find out a bit more about our family use the About Us top navigation (it will also let you get to some delicious recipes!). Use the Shop top navigation to find all the wonderful products you are used to. We hope the new site is easier to navigate and as always, we welcome your feedback! Thank you for your support — The Wheeler Family (Steve, Amy, Jed and Jonah)
Jed's Maple Open House 2018
We are excited to invite you to our 19th Annual Sugar on Snow Party and Maple Open House on March 24 & 25. We will be open from 10-4 both days. The event is a great way to celebrate spring and Vermont's first crop of the year! The FREE, fun, family event includes sugar on snow, wood-fired maple pizza, maple specialty food sampling and tours. There will also be story time with Sugarmaker Steve and other children's activities. Be sure to dress for the weather as most activities take place outside. Can't wait to say Hi!
More info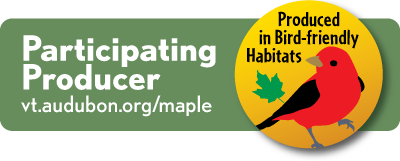 Jed's Maple is proud to be a member of these fine groups: