Jed's Gift Shop

Pure Vermont Maple Syrup
If you've never had 100% Pure Vermont Maple Syrup, you don't know what you are missing! Great on pancakes, waffles, french toast and ice cream. We have syrup in both plastic jugs and a large array of glassware. All of our syrup is sealed in accordance of Vermont Law. After the seal is broken, the syrup should be refrigerated. Maple syrup keeps best in the freezer; it will not freeze but becomes very thick.
We normally ship Vermont Grade A Medium Amber or Grade A Dark Amber. If you so request, we can substitute Vermont Grade B at no extra cost. Vermont Fancy may be supplied, but at a premium rate - please contact us for price and availability.

Pure Vermont Maple Candy & Cream
Made of 100% pure Vermont Maple Syrup, the one pound and half pound boxes contain small maple leaf shaped candies. Also available are large (1.5 ounce) individually packaged pieces of maple candy in the shape of maple leaves or moose heads. Candy should be eaten in within one to two weeks of purchase. It can be refrigerated or frozen to keep longer.
Also called Maple Butter, Maple Cream is made from 100% pure Vermont Maple Syrup. Smooth and creamy, it is wonderful on toast, donuts and waffles. It is also a great way to baste meat.
Maple Specialty Foods
If you love the taste of Maple, you will love the products in this section. Each product is made with pure maple syrup. From maple blend lollipops to maple frosted nuts or maple dressing, we're sure to have a product that will tantalize your taste buds.
Maple Related Products
From gourmet pancake mixes to coffee & tea and handmade stoneware syrup pitchers, we've found some very special items to complete our maple products.
Gift Boxes
Looking for a tasty gift idea, we offer a variety of pre-selected gift combinations for maple lovers of all ages. Or you can design your own gift box by selecting the products you want and then simply add the custom box option from our giftshop.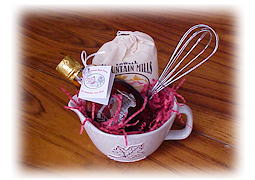 We hope you enjoy your visit. Feel free to e-mail us at
wheeler@jedsmaple.com with any comments.