About Jed's Maple Products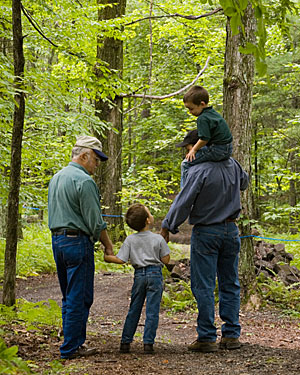 Three generations of the Wheeler Family in the Sugarwoods
(L to R): Pepere, Jed, Steve, Jonah (on Steve's shoulders)
We are often asked if we grew up in sugaring (Vermont term for "making maple syrup") families so we thought that you might be interested in our history as well. We are both native Vermonters with Steve growing up in Derby, in Vermont's "Northeast Kingdom" and Amy growing up in Pownal, in the southern part of the state. Steve learned sugaring at an early age by watching his father and grandfather tap trees and boil the sap into syrup. He was put to work at the age of six, carrying firewood into the sugarhouse, and by the time he was in high school he was doing everything from tapping, to fixing tubing in the woods, to boiling in the sugarhouse, under the watchful eyes of his father and grandfather.
Meanwhile, Amy's family tapped the maple trees on their land and sold the sap to a local sugarmaker to boil it into syrup. They made some syrup for their own use as well.
We met at the University of Vermont where Steve was studying Mechanical Engineering and Amy was studying Physical Therapy. After graduating, we married and moved to Virginia to pursue careers and enter graduate studies at Virginia Commonwealth University. In 1996, Steve received an MBA and Amy received a Masters Degree in Neurological Physical Therapy and we moved to Ohio where Steve was transferred. We were climbing the corporate ladder!
Our son Jed was born a few years later and we began to realize that we missed Vermont and our families and that maybe the corporate life wasn't what we really wanted. Steve was offered an engineering position in Vermont and we happily moved home. As we looked for a house we decided that it would be nice to find a place that had a few maple trees in the backyard so that we could make a little maple syrup as a hobby.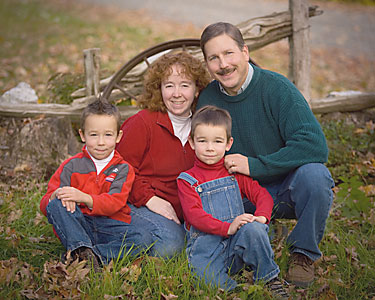 The Wheeler Family, fall 2008
(L to R): Jed, Jonah, Amy, & Steve
I remember well the first spring we sugared after moving back to Vermont. We made 176 gallons of syrup and canned it all during the season. I never thought we could sell it all but it was gone by September! That first venture was all it took to make us decide that a sugaring operation made sense. The next year we made more syrup and created new maple products as well.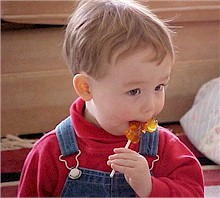 As the business continued to grow, Steve realized his heart wasn't in engineering anymore. The constant struggle of balancing a job, a young family and a growing business wasn't any fun. Something had to go. So, the job went (!) and we started to really focus on growing our business.
The pure maple products (syrup, candy and cream) were soon joined by maple frosted nuts and the first of our dressings, Maple Balsamic Vinaigrette. We continued to expand our maple specialty foods and spent several years revising our Maple Mudd from an old family recipe to one we could produce commercially. What an amazing learning process that was! We've continued to add new products every year since.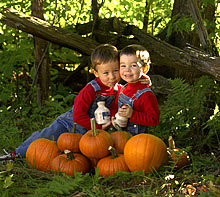 Our second son, Jonah, was born in 2001 and we started Jonah's Maple Supply, selling equipment and supplies to other sugar makers. We continue to sell equipment and supplies from several different manufacturers, filling a niche for other maple producers in our rural part of Vermont.
In the last few years, we have converted the barn on our property into a commercial kitchen and moved our production from the Vermont Food Venture Center to our own property. In the spring of 2008 we finished the conversion of the loft into an office and more, much-needed storage space with lots of shelving. Our garage continues to be the overflow space – holding pallets of glass containers waiting to be filled!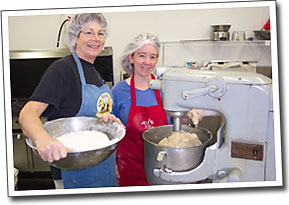 We have been lucky to have our friend and fellow sugar maker Sue join our family business in 2006 to help in the kitchen with production, answer the phone, and pack orders. She's become such a part of a family that Jed and Jonah call her "Aunt Sue". In the fall of 2007, Sue's sister Jean joined us to help with labeling, packing and other projects.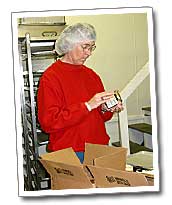 This winter we have just purchased the sugar bush (maple trees) adjoining Steve's parents in Derby. We look forward to combining our woods and eventually moving our sugarhouse there. It will be amazing to see Jed and Jonah helping in the sugarhouse with Dad and Grandfather. Talk about coming full circle!
Please know that we make every product, and fill every order, as though we were doing it for family. We know our business wouldn't be possible without you and your support. We are so excited to share our 'family' business with you! Thank you!
Sweet Dreams!
— The Wheeler Family (Steve, Amy, Jed & Jonah)
Though our mailing list is on the computer we still spend a weekend every fall addressing and stamping our annual catalog to mail it to you. The boys love to help and have even learned most of the states' abbreviations in the process!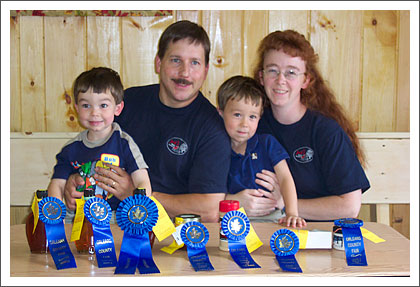 Maple Products make great gifts.
We also offer gift certificates!