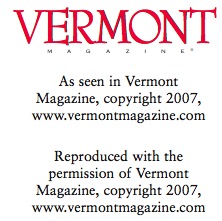 Sweet Success
Steve and Amy Wheeler have tapped into success with their booming family agricultural business, Jed's Maple Products.
Story by Kathleen James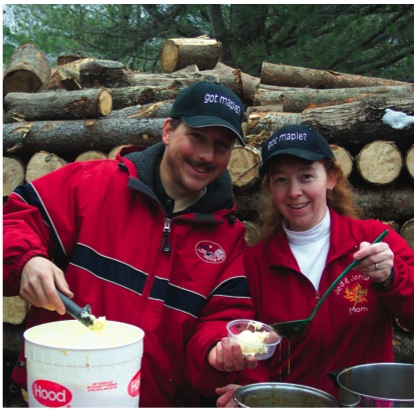 When Steve Wheeler was 14, he took over a lawnmowing business from his older cousin. Within two years, he'd earned enough profit to buy a brand-new simplicity riding tractor with a five-foot cut. He had two friends working for him and, come summer, the three boys were mowing almost every lawn of any size in their small northern Vermont hometown.
"He worked six days a week, all day long," says Steve's father, merle. "They even worked in the rain. They had so many lawns to cut, they had to work no matter the weather. That's Steve for you. He gets in over his head, but that doesn't seem to scare him -- or maybe he doesn't care. He'll just push and push and get it done." on a cold, wet afternoon in early December 2006, Steve Wheeler is pushing again. He and his wife, Amy, are scrambling to pack 40-some holiday gift boxes before the UPs truck arrives. "It's totally insane at this time of year," he says. "But it's good insane."
Steve and Amy are the co-founders and co-owners of Jed's maple Products, a syrup and specialty food business they run from their hilltop farm in the northeast Kingdom. With a long-term lease on 75 acres and 6,000 taps, they produce about 1,000 gallons of their own syrup every year, and process another 4,000 gallons that they buy wholesale from sugarmakers across the state.
"You'd be surprised at the volume that comes out of this little kitchen," says Steve, adjusting his "Got maple?" ball-cap and looking around the commercial kitchen he built a few years ago in what used to be a barn. He's right -- but even more surprising than Jed's volume is its reach. Just six years after the business started, he and Amy now sell their maple products at retail stores and restaurants throughout the state and along the eastern seaboard, as far south as Florida. And they ship all across the United states, including to one loyal customer from Alaska.
Steve, who's 40 this year, grew up in Derby, the son of an rfD mail carrier (merle) and a nurse (Cecile). In high school, besides running his mowing business, he sang in the chorus, played jazz saxophone, and skated on the varsity high-school hockey team. "He always had more homework than anyone else," says merle. "His teachers were pushing him." He met Amy, who grew up in Bennington, while they were both undergrads at the University of Vermont. Amy, now 37, is a lifelong equestrian, and upon meeting her in college, Steve immediately figured out what he had to do. "I bought a horse," he says. "I figured I had to, since I wanted to date her." they married in april 1992 and moved to virginia, where Amy earned a master's degree in physical therapy and Steve got an MBA.
A few years later, they were living in Ohio, "doing the corporate ladder thing," as Steve describes it...and then their first son, Jed, was born. "Everything changed," says Steve. "I was working in engineering for a fortune 500 company. I traveled all the time, I missed my family, and I missed Vermont."
They started looking for a home back in the Kingdom, near Derby. "We wanted a place to keep a horse and a few good trees to tap," says Steve. A fifth-generation sugar-maker, he grew up helping his father and grandfather work the sugarbush at the family hunting camp near morgan, off seymour Lake. His first job, at age six, was to gather wood, and then later to feed the fire, keep an eye on the syrup, and draw it off. "By the time I got to high school, my dad would just say, 'Steve, go boil,'" he says.
They found a perfect house five miles up a dirt road in Westfield, in the mountains west of newport and Derby, and settled back in Vermont in 1999. It had a barn for a horse and an extra bedroom to convert to a classroom; they were planning to home-school Jed (and they still do). It also had maple trees.
"That first sugar season, the spring of 2000, I put in 750 taps and we made 176 gallons," says Steve.
"I had no idea what we were going to do with all of that syrup," adds Amy. "Steve told me not to worry. He said he'd sell it, and he did. It was all gone by September." and Jed's maple Products -- named after their son -- was open for business.
In the Fast Lane
From that point forward, things moved fast. The horse and tractor were displaced from the barn, and Steve turned the building into a commercial-scale sugarhouse and kitchen. It never occurred to Steve that their sugaring operation would be a low-key seasonal hobby; that it wouldn't grow. the couple did some research -- both Steve and Amy are savvy business strategists -- and soon focused on two key concepts: retail, in addition to wholesale; and a diverse line of maple-based food products.
"Dashing around in the woods in the snow is tough work," says merle Wheeler. "But real sugar people, like my family, like Steve? they get addicted. Addicted to the trees, and the sap, and the woods. The snow is melting, and the birds are singing, and the sap is dripping into the bucket. It sounds like music. And you kind of get to wanting more. More trees, more sap, more syrup. Most of us lose track of whether we're making any money or not. Running around in the woods with a chainsaw and a bucket isn't very fat; you don't get rich sugaring. But Steve and Amy saw an opportunity from the beginning in retail."
That very first season, Steve and Amy started puttering in the kitchen. Besides selling syrup to anyone who'd buy it, they made some maple lollipops, maple candies, and maple cream.
"And then, wham! We experienced an inversion," says Steve, using the food-chem term for what happens to sugar during a boil. "My hobby took off. I was working 10 hours a day as an engineer at a manufacturing plant in Derby, and then coming home to work all night, or all weekend, in the woods and the sugarhouse. We didn't have any time as a family, and our second son, Jonah, was already 2. So I quit my job, Amy went back to work part-time as a physical therapist, and I dedicated myself to sugar, full-time."
The Jed's mail-order catalog and Web site now offer an impressive array of maple edibles. Syrup is a big seller, obviously, including Jed's reserve (a fancy-grade version packaged in a wine bottle), Vermont Grade a medium amber in plastic jugs or decorative glass, and Grade B "Cookin' syrup" with a powerful maple punch. They also sell 40- to 250-milliliter "nips" in pretty glass jars, shaped as hearts and the like, for wedding favors. In addition, they produce maple salad dressings and marinades, maple "sugar shakers" (a blend of maple sugar and seasonings, used to season meat or other dishes), cotton candy, frosted nuts, applesauce, jelly, assorted condiments and more.
Steve and Amy developed all of the recipes together, first on the stovetop and later in their commercial kitchen, and Steve has since taken a servsafe food-processing certification course and a three-day course at Cornell University. They also work closely -- and produce some of their product -- at the Vermont food venture Center in fairfax. Owned by the economic Development Council of northeast Vermont, it provides training and resources to help farmers, and other Kingdom residents, diversify their agribusiness, or start a specialty food operation.
They are particularly passionate about three of their products: the maple candies, the maple cream, and the maple mudd dessert sauce. Steve practically vibrates as he walks me through the painstaking process of making perfect maple candy and cream. "Smooth maple cream is good maple cream," says Steve, offering me a taste. "See? Isn't that smooth? Isn't that smooth? Is that smooth, or what? Grainy cream is nasty. I immediately reject any cream that's grainy." He's equally intense about his maple mudd sundae sauce, a thick blend of maple and peanut butter meant to be served warm over ice cream, waffles, bagels...or snarfed straight from the jar with a spoon. There's a chocolate version, too.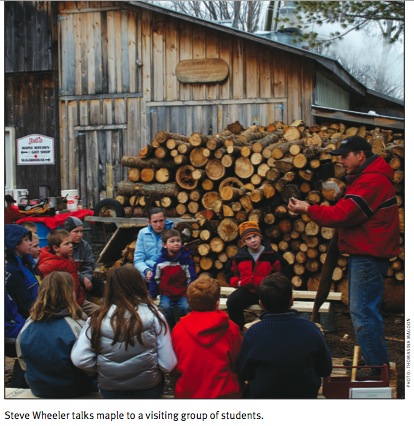 Steve's mom used to make mudd for him as a kid, every night after supper, and turning this childhood snack into a top-selling commercial product offers a great example of why Jed's is so successful.
"From the mixing bowl to the market. that's our challenge," says Steve. Judging by sales, they've got the drill down.
"Steve's product really moves off the shelves," says Derek mcKenny, who played hockey with Steve in high school; he now runs Vermont mustard Company, a specialty-food restaurant, take-out and catering business in atlanta, Georgia. "Knowing Steve, I'm not surprised that their business is doing well. He's pretty type a; the wheels are always turning. Every time I talk to him, he comes up with a new idea, a new product, a new market. He's a real go-getter."
The kids get involved, too: traveling with their parents to gourmet food shows and fairs (the kids run the cashbox), working in the woods with their dad, tasting recipes with Amy, feeding the fire during sugaring season, and making big plans for the future. A spin-off business that's still in the research and start-up phase, Jonah's maple supplies, is named after their second son, and the couple has plans for the future that they're not yet ready to reveal.
"Jonah says he'll be running the business someday, and Jed will be working for him," says Amy. "We'll see about that, but we're glad they see this as a family thing."
Regardless of where their sons wind up, both Wheelers feel an obligation to pass something meaningful along. "A lot of people visit our sugarhouse, and I'm often dismayed by how disconnected people are from the land," says Steve. "So many kids, even adults, have no clue where our food comes from, or how it's made. I feel a responsibility to do something about that, and to take care of these woods, and to pass them down to the next generation. and when it comes to the business, well, we're going after products that no one else makes. We're trying to clear a path in a very tough market."
He pauses for a second to scratch behind his "Got maple" hat. "My Dad always tells me, 'Don't look at what anyone else is doing. Keep going straight ahead. Walk your own path, and let other people try to follow you.'"
Kathleen James is a contributing editor to Vermont Magazine, and a former senior editor at Snow Country and Mountain Sports & Living. She lives in manchester center. For recipes from Jed's maple, go to www.vermontmagazine.com Web Bonus section.
As seen in Vermont Magazine, copyright 2007, www.vermontmagazine.com
Reproduced with the permission of VERMONT magazine, copyright 2007, www.vermontmagazine.com
Photos by Thomasina Magoon, courtesy of Jed's Maple